Vitamin D3 Gummies (1000 IU)


Expert-recommended 1000 I.U. of vitamin D3
   in each gummy



Great-tasting, wild berry flavor



No artificial coloring, flavoring, or preservatives



Pectin based and gelatin free



Supports calcium absorption for healthy bones*



Supports immune system function*



Helps regulate mood and sleep rhythms*
Nordic Naturals Vitamin D3 Gummies provide 1000 I.U. of vitamin D in each serving. These great-tasting vitamins are made from cholecalciferol, the natural form of vitamin D, preferred for optimal absorption.
Research shows that vitamin D performs a variety of functions in optimizing health. It promotes the body's absorption of calcium and phosphorous, minerals that are critical for bone health.* Vitamin D also supports the immune system, and the hormones that regulate mood and sleep.*

One gummy daily, with food, or as directed by your health care professional or pharmacist.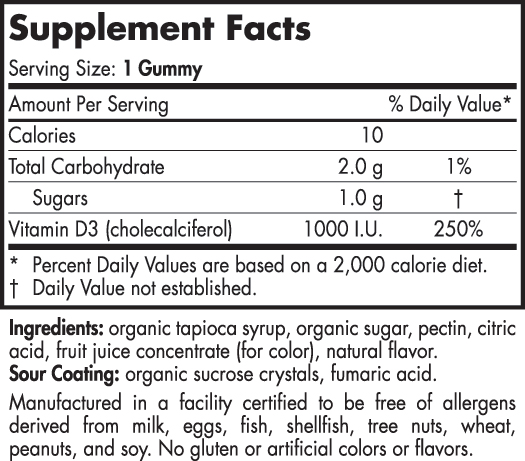 * These statements have not been evaluated by the Food and Drug Administration.
   This product is not intended to diagnose, treat, cure, or prevent any disease.